Free Podcast Lessons
Join my FREE, popular, daily podcast lessons designed to help Busy Professionals improve their German; easy to listen into on any 10-minute commute to and from work.
Get access to the last and all previous episodes here
Thank You for listening!
May I ask you for a quick favor?
I may not have the reach such as apps like Duolingo or Babble have, but I know that my material is really good.
Can you help me spread the word?
You may know other colleagues who are on the same journey as you.
They might be already living in a German-speaking country like Germany, Switzerland or Austria and also need some help to get along with this weird German language.
If you find my material helpful for yourself and know one colleague who could benefit from it as you do, please, can I ask you for a quick favor?
Share this site by clicking on the social media buttons below.
I really appreciate it!
Want to get FREE updates plus scripts and notes of the sample sentences I use in each lesson right into your inbox?
CLICK HERE to sign up to my email newsletter and receive FREE daily updates right into your inbox of new podcast episodes including scripts and notes for each lesson, like this one: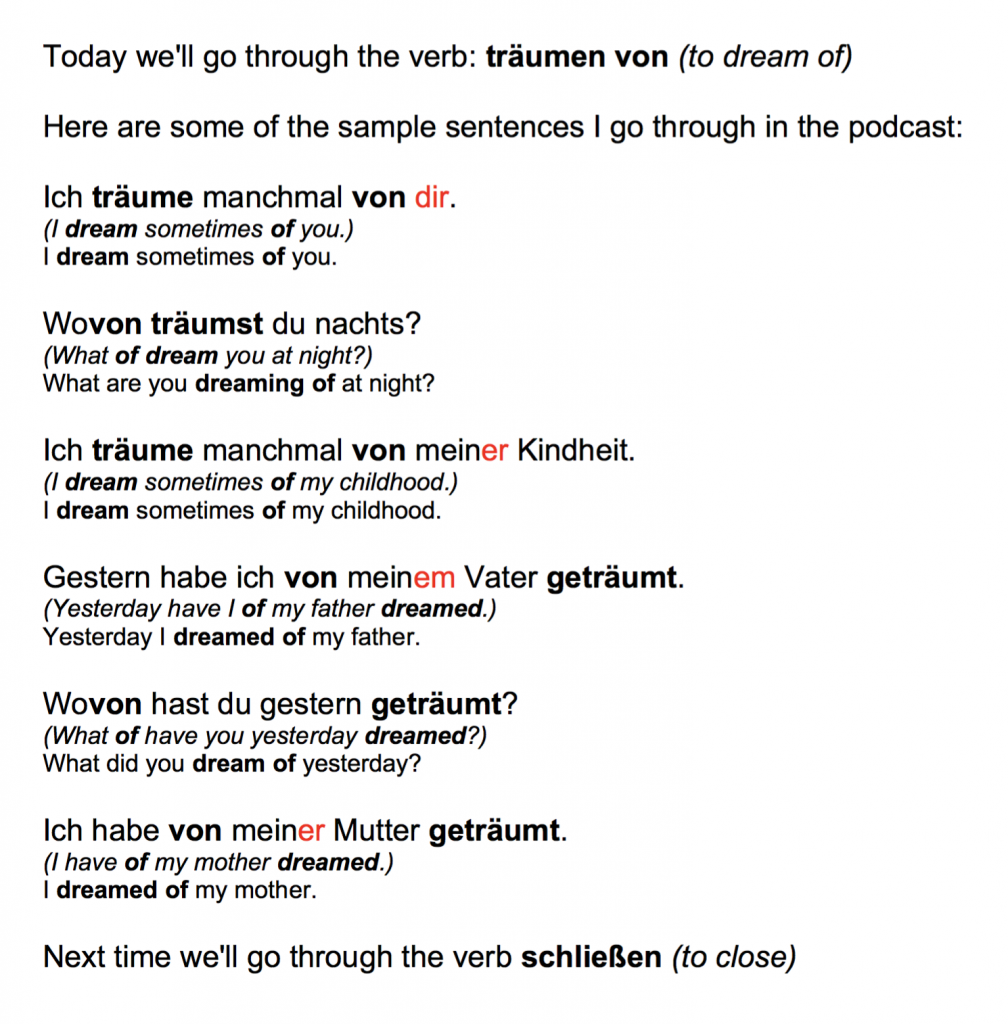 Any questions or struggle with this weird German language?
Just head over to Ask Herr Professor and ask me any question with a quick voice mail or email. Feel free to ask me anything about this weird German language.
Want some FREE mini-courses to boost your German TODAY?
Get my FREE exclusive mini-courses that will help you:
Start speaking German from DAY 1 if you're starting from scratch
Imagine starting with German TODAY and having your first confident conversation on DAY 1. Without struggling what to say or how to say.
Go from zero to having your first confident conversation TODAY.
Save more than 50% of your time learning

der

,

die

,

das

with these 2 powerful mnemonics
The german gender seems tricky at the beginning right? "Der" means the, "die" means the and "das" means also the. Wow, 3 times the work for the same result. "And now I have to learn every new German noun with its gender?" NOT with these two powerful tricks.
Understand once and for all when and how to use the adjective endings
The German adjective declension is weird? Imagine knowing exactly when to say "groß, große, großen, großem, or großer ". To completely understanding these endings after just one lesson. Without scrolling through weird grammar books. Without memorizing tons of tables.